In the design of powder metal pulleys, several key considerations should be taken into account to ensure optimal performance and functionality. Here are some important factors to pay attention to:
Functional Requirements: Clearly define the functional requirements of the powder metal pulley, such as power transmission, speed, torque, and environmental conditions. This information will guide the overall design process and influence material selection and manufacturing considerations.
Geometry and Size: Determine the appropriate dimensions, including outer diameter, bore size, width, and groove profile, based on the specific application requirements and the belt type that will be used with the pulley. Consider factors such as belt engagement, center distance, and the desired transmission ratio.
Material Selection: Select a suitable powder metal material based on the application's mechanical requirements, environmental conditions, and expected performance. Consider factors such as strength, wear resistance, corrosion resistance, and compatibility with the belt material. Consult with
wholesale Powder Metal Pulley Manufacturers
to choose the optimal material.
Design for Manufacturability: Consider the limitations and capabilities of the powder metallurgy process during the design phase. Optimize the design for efficient and cost-effective manufacturing, including considerations such as part consolidation, avoiding complex features, and ensuring proper draft angles for easy ejection from the mold.
Structural Integrity: Ensure the pulley design provides sufficient structural integrity to withstand the expected loads, including radial and axial forces. Consider factors such as pulley rim thickness, web design, and reinforcement features, such as ribs or flanges, to enhance strength and rigidity.
Belt Tracking and Alignment: Design the pulley to facilitate proper belt tracking and alignment. This includes features such as accurate groove profiles, flanges, or guides to ensure the belt remains properly engaged and centered on the pulley.
Surface Finish: Consider the surface finish requirements of the pulley to minimize friction and wear between the pulley and the belt. Smooth and properly finished surfaces can help reduce noise, improve belt grip, and extend belt life.
Balance and Vibration: Pay attention to the balance of the pulley to minimize vibration and ensure smooth operation. Unbalanced pulleys can cause belt slippage, increased wear, and reduced efficiency. Design features such as weight distribution or counterweights may be necessary to achieve balance.
Heat Dissipation: If the application involves high-speed or heavy-duty operation, consider incorporating features that aid in heat dissipation, such as cooling fins or ventilation channels, to prevent excessive heat buildup and potential damage to the pulley or belt.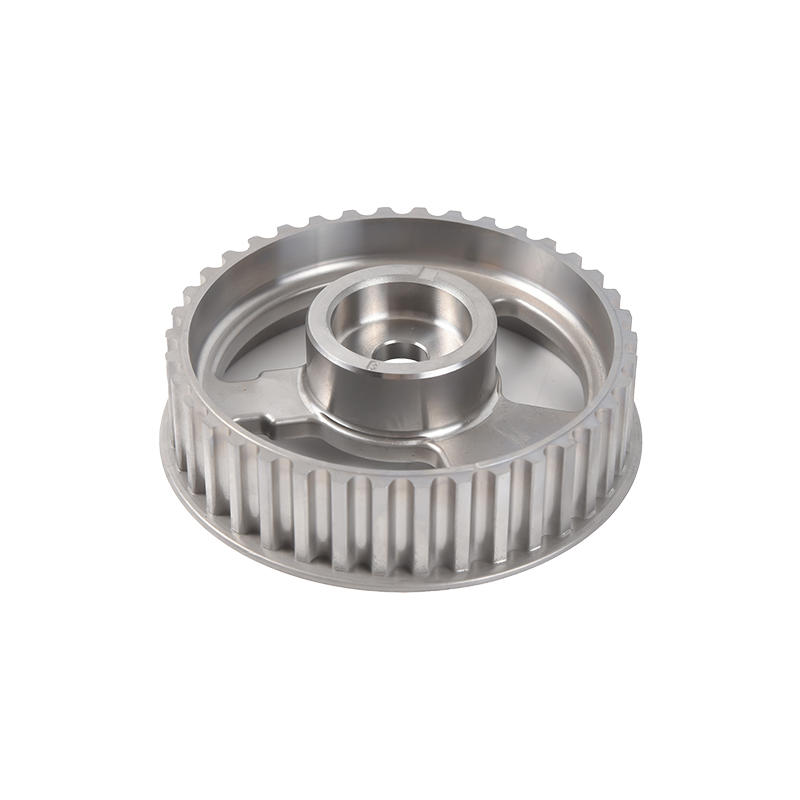 Product Description:crankshaft pulley with timing teeth
Application &Purpose:this part is timing pulley with teeth assembled for the crankshaft with timing belt ;with 600tons to 1000tons pressing machines to make the teeth precisely ;
Material:Iron powder sintered FC-0208-40(Copper added alloy)Customerized material
Main Process:Mixing iron alloy powder-forming-sintering-sizing--CNC center machining-Anti-rust oil spraying-packing