1. Powder Preparation: In the powder preparation stage, raw materials such as iron, steel, or copper are carefully selected and blended to achieve the desired composition and performance characteristics. The metal powders may undergo processes like atomization or blending to ensure proper particle size distribution and homogeneity.
2. Powder Compaction: The prepared metal powder is then compacted into the desired pulley shape using specialized machinery. Powder compaction involves applying high pressure to the powder within a die or mold. The pressure helps consolidate the particles, increasing their density and forming a green compact with the desired shape.
3. Binder Addition (Optional): In some cases, binders or lubricants are added to the metal powder before compaction. These binders assist in particle cohesion during compaction and improve the handling properties of the green compact. The binders are typically organic materials that will be removed later in the process.
4. Sintering: The green compact is subjected to a sintering process, which is a key step in powder metallurgy. The compact is heated in a controlled atmosphere furnace to a temperature just below the melting point of the metal particles. During sintering, diffusion and solid-state reactions occur, promoting particle bonding and forming a fully dense and solid pulley.
5. Secondary Operations (Optional): After sintering, additional secondary operations may be performed to achieve specific requirements. These operations can include sizing, coining, or repressing the pulley to improve dimensional accuracy, density, or surface finish.
6. Machining and Finishing: Machining processes are employed to achieve the final dimensions, shape, and surface finish of the powder metal pulley. Techniques such as turning, milling, drilling, or grinding are utilized to remove excess material, create keyways or grooves, and achieve the desired tolerances.
7. Surface Treatment and Coating: Depending on the application and performance requirements,
powder metal pulleys
may undergo various surface treatments or coatings. These treatments can include heat treatments, plating, coating with protective materials like zinc or epoxy, or applying specialized surface finishes to enhance wear resistance, corrosion resistance, or reduce friction.
8. Quality Control: Stringent quality control measures are implemented throughout the manufacturing process to ensure the powder metal pulleys meet the required specifications and performance standards. This includes dimensional inspections, hardness testing, material analysis, and functional testing to verify their reliability and functionality.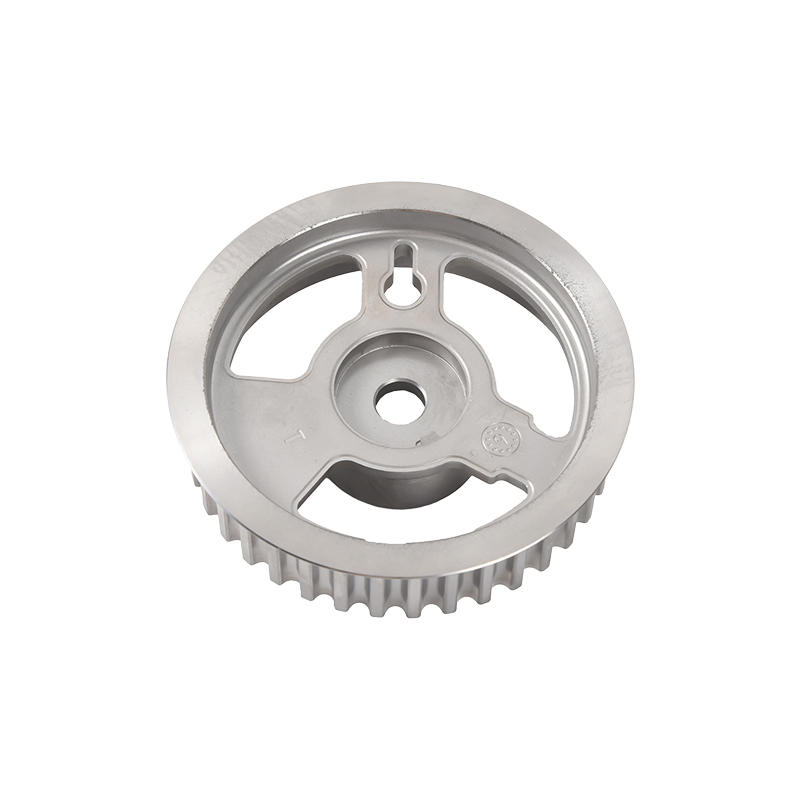 Product Description:crankshaft pulley with timing teeth
Application &Purpose:this part is timing pulley with teeth assembled for the crankshaft with timing belt ;with 600tons to 1000tons pressing machines to make the teeth precisely ;
Material:Iron powder sintered FC-0208-40(Copper added alloy)Customerized material
Main Process:Mixing iron alloy powder-forming-sintering-sizing--CNC center machining-Anti-rust oil spraying-packing