The noise and vibration characteristics of powder metal pulleys can be influenced by various factors. Minimizing noise and vibration is important to ensure the smooth and quiet operation of machinery. Here are some key factors that influence these characteristics and ways to minimize them:
1.Material Selection:
Material choice plays a critical role in noise and vibration reduction. Materials with high damping properties, such as composites or certain powder metal alloys, are preferable.
Consider selecting materials with a low modulus of elasticity to reduce the transmission of vibration through the pulley.
2.Design:
The design of the pulley should prioritize smoothness and balance to minimize noise and vibration.
Employ advanced CAD (Computer-Aided Design) tools to optimize the pulley's geometry for reduced vibration and noise.
3.Tight Tolerances:
Maintaining tight manufacturing tolerances during production is essential. Variations in dimensions can lead to imbalances that generate vibration.
Employ precision machining and quality control measures to ensure consistency in manufacturing.
4.Surface Finish:
Achieving a smooth surface finish on the pulley reduces friction during operation, which can contribute to noise.
Implement proper polishing and finishing techniques during manufacturing.
5.Balancing:
Dynamic balancing during manufacturing is crucial. Imbalanced pulleys can generate vibration and noise, causing premature wear.
Use advanced balancing machines and techniques to achieve precise balance.
6.Alignment:
Ensure that the pulley is correctly aligned with other components in the system. Misalignment can induce vibration and noise.
Regularly check and adjust alignment as part of routine maintenance.
7.Bearing Quality:
High-quality, well-lubricated bearings are essential for smooth and quiet operation.
Implement a proactive maintenance schedule to monitor and replace bearings as needed.
8.Belt Quality:
The choice of belt material and its tension are critical. Properly tensioned and high-quality belts reduce vibration and noise.
Regularly inspect belts for wear and replace them as necessary.
9.Operational Speed:
Operate the pulley within its recommended speed limits to prevent imbalance and associated vibration.
Implement speed monitoring systems to ensure compliance.
10.Maintenance:
Regularly scheduled maintenance, including visual inspections, lubrication, and part replacement, is essential to identify and address issues that can lead to increased noise and vibration.
11.Isolation:
In applications where vibration is a concern, consider using isolation mounts or systems to decouple the pulley from the surrounding structure, preventing the transmission of vibration.
12.Damping Materials:
Integrate damping materials, such as rubber or elastomers, into the pulley design or the surrounding structure to absorb and dissipate vibration energy.
13.Acoustic Enclosures:
In noise-sensitive environments, enclosing the machinery in acoustic enclosures can effectively contain and reduce noise, minimizing its impact on the surroundings.
14.Monitoring and Analysis:
Implement vibration monitoring and analysis systems that allow for real-time detection of vibration anomalies. Proactive maintenance can address issues before they lead to significant noise and vibration problems.
By carefully considering these factors and implementing appropriate measures, manufacturers and users of powder metal pulleys can minimize noise and vibration, contributing to quieter and more efficient machinery operation.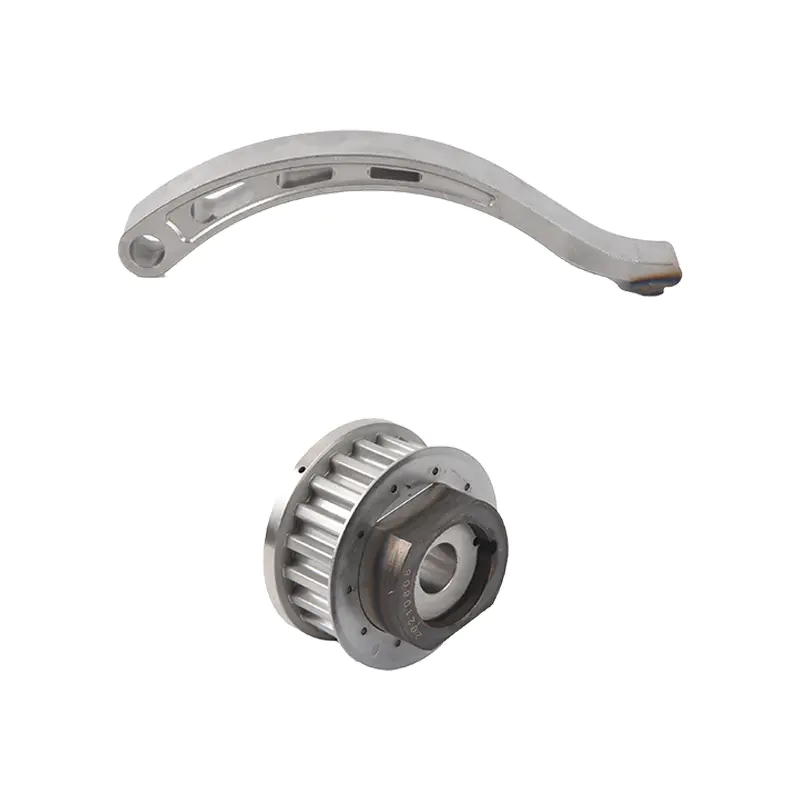 Application &Purpose: this pulley is timng pulley made by 400tons machine ;then it also need spot welding for the cover to hold the timing belt with teeth ; on the top of the hub require high frequency hardening (heat treatment)to keep longer abrasive performance 
Material: stainless powder & stainless steel 304 (customerized material)