The belt tensioner pulley plays a crucial role in the overall performance and efficiency of an engine by ensuring proper tension on the belts that drive various engine components, such as the alternator, air conditioning compressor, power steering pump, and water pump. Here's how a belt tensioner pulley contributes to engine performance and efficiency:
1.Maintains Proper Belt Tension: A belt tensioner pulley is designed to exert controlled force on the drive belt, ensuring that it maintains the correct tension. This tension is critical for preventing belt slippage, which, if left unattended, can result in inefficient power transfer and reduced performance of engine accessories. By preventing such slippage, the tensioner pulley contributes to the consistent and reliable operation of these accessories.
2.Optimizes Accessory Operation: Each engine accessory, such as the alternator, air conditioning compressor, power steering pump, and water pump, has a specific operational range where it performs optimally. The belt tensioner pulley helps maintain these accessories within their designed RPM range. For instance, a properly tensioned alternator ensures a consistent electrical output, while a correctly tensioned water pump guarantees adequate cooling, both of which are essential for overall engine efficiency.
3.Reduces Energy Loss: When a drive belt slips due to inadequate tension, energy is dissipated as heat and friction, leading to energy wastage. The belt tensioner pulley's role in preventing slippage minimizes these energy losses, which, in turn, reduces the overall workload on the engine. Consequently, this contributes to enhanced engine efficiency and improved fuel economy.
4.Extends Belt and Component Life: Over-tensioned or under-tensioned belts can cause premature wear and damage to both the belts and the associated components. By maintaining proper tension, the tensioner pulley helps extend the service life of these components. This is particularly valuable in reducing maintenance costs and enhancing the overall longevity of the engine system.
5.Enhances Fuel Efficiency: The improved efficiency of engine accessories, made possible by the belt tensioner pulley, has a direct impact on fuel consumption. When accessories operate optimally, the engine's load is minimized, requiring less fuel to perform the same amount of work. This results in improved fuel efficiency, which is advantageous both economically and environmentally.
6.Reduces Noise and Vibration: In addition to its mechanical functions, a properly functioning tensioner pulley contributes to a quieter and smoother engine operation. Well-tensioned belts generate less noise and vibration, which translates to a more comfortable and refined driving experience for the vehicle's occupants.
7.Minimizes Maintenance Downtime: Belt-related issues, such as belt failure or accessory malfunction due to improper tension, can lead to unexpected breakdowns and maintenance downtime. The tensioner pulley plays a pivotal role in mitigating these risks by ensuring consistent belt performance, thereby reducing the likelihood of unplanned maintenance events, which can be costly and disruptive.
8.Enhances Safety: Beyond performance and efficiency, the tensioner pulley is integral to the safety of the vehicle. A properly tensioned drive belt ensures that essential systems like power steering and cooling are fully operational. This, in turn, contributes to safe and predictable vehicle handling and temperature regulation, which are crucial aspects of vehicle safety.
The belt tensioner pulley is a critical component that helps maintain the proper tension in drive belts, optimizing the operation of engine accessories and contributing to improved engine performance, efficiency, and reliability.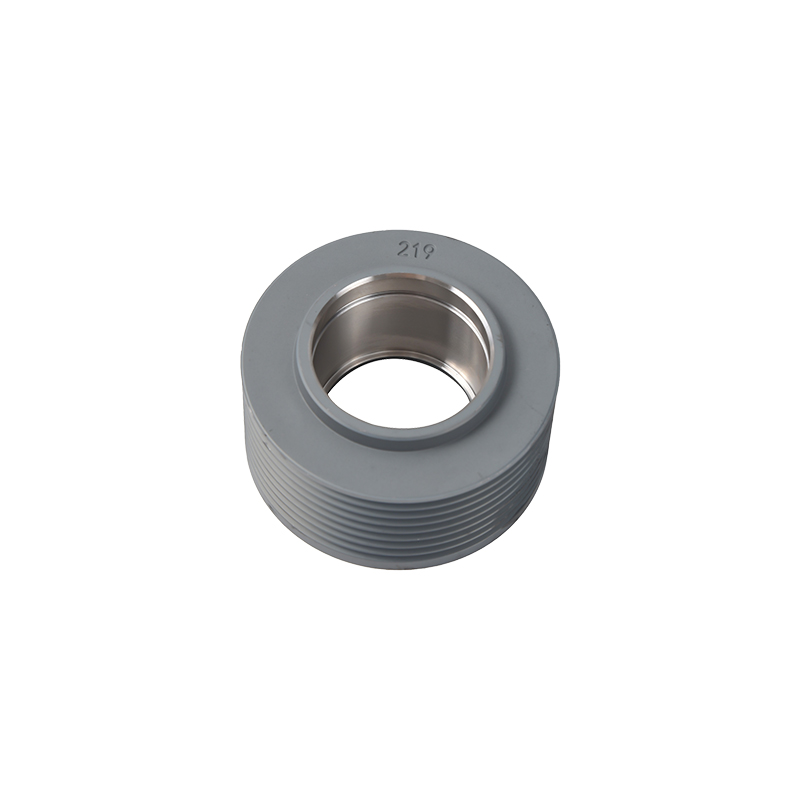 Application &Purpose: this pulley is assembled for accessory tensioner &idler pulley for Poly-V belt for crankshafts ; this pulley can be applied for heavy tudy vehicles like 7 Liters to 13 liters for different groove
Material: Iron powder sintered FC-0208-40(Copper added alloy)Customerized material