Using stamped auto parts in vehicle manufacturing offers several key advantages:
1.Cost-Effective Production:
Stamping processes are known for their efficiency in producing auto parts in large quantities, resulting in economies of scale. The method minimizes labor costs due to automation, and the high-speed operation of stamping presses reduces production time, ultimately lowering manufacturing expenses.
2.Precision and Consistency:
Stamping technology offers exceptional precision in forming and cutting auto parts. Manufacturers can maintain tight tolerances and ensure consistent part dimensions throughout production runs. This level of precision is critical for components like engine parts and safety systems where deviations could compromise performance or safety.
3.Material Efficiency:
Stamping optimizes material usage by minimizing waste. Sheet metal is cut or formed with minimal scrap, making it a sustainable choice compared to other manufacturing techniques. This efficiency contributes to cost savings and reduces the environmental impact of production.
4.High Strength and Durability:
Stamped auto parts often utilize high-strength materials, such as advanced high-strength steel. This results in auto components with excellent structural integrity, durability, and resistance to wear and tear, contributing to vehicle safety and longevity.
5.Lightweighting:
Stamping enables the creation of intricate and lightweight designs. As automakers seek to improve fuel efficiency and reduce emissions, stamped parts play a crucial role in reducing the overall weight of vehicles without compromising strength or safety.
6.Production Efficiency:
Stamping processes are highly automated, leading to faster production rates and reduced reliance on manual labor. This efficiency is vital for meeting the demands of the automotive industry, particularly in high-volume production scenarios.
7.Design Flexibility:
Stamping is versatile and adaptable to a wide range of part geometries and sizes. From simple brackets to complex body panels, stamped components can be customized to meet the specific design requirements of various automotive applications.
8.Surface Finish Options:
Stamped auto parts can undergo a variety of surface finishing treatments, including painting, plating, and powder coating. These finishing options enhance the aesthetics of the components and provide corrosion resistance, prolonging the lifespan of the parts.
9.High-Volume Capability:
Stamping facilities excel at producing auto parts in large quantities quickly. This capability is essential for automakers looking to maintain consistent production volumes and meet the demands of the market.
10.Integration with Assembly:
Stamped parts are often designed to seamlessly integrate into assembly processes. Their precise dimensions and quality make them suitable for direct use in vehicle assembly, reducing the need for additional machining or modification.
11.Reduced Lead Times:
Stamping can streamline the manufacturing timeline for auto parts. The ability to produce components rapidly ensures that they are readily available for vehicle assembly, helping to reduce lead times in the production process.
12.Consistent Quality:
Stamping processes are highly repeatable, leading to consistent quality across batches of auto parts. This reliability is critical, especially for safety-critical components like airbags and seatbelt mechanisms.
13.Automotive Safety:
Stamped auto parts find applications in critical safety systems, where precision and reliability are paramount. For example, airbag housings and seatbelt components must meet rigorous safety standards to protect vehicle occupants.
14.Noise and Vibration Control:
Stamped auto parts can be engineered to dampen noise and vibration, improving the overall driving experience. This is particularly important for components related to vehicle comfort and NVH (Noise, Vibration, and Harshness) control.
15.Customization Potential:
Despite their suitability for high-volume production, stamped auto parts can be tailored to accommodate design variations and specific customer requirements. This flexibility allows automakers to create unique vehicles and meet the diverse needs of their customer base.
16.Competitive Edge:
Leveraging stamping technology provides manufacturers with a competitive edge in the automotive industry. It allows them to produce high-quality, cost-effective components that contribute to safer, more fuel-efficient, and competitively priced vehicles, ultimately enhancing their market position.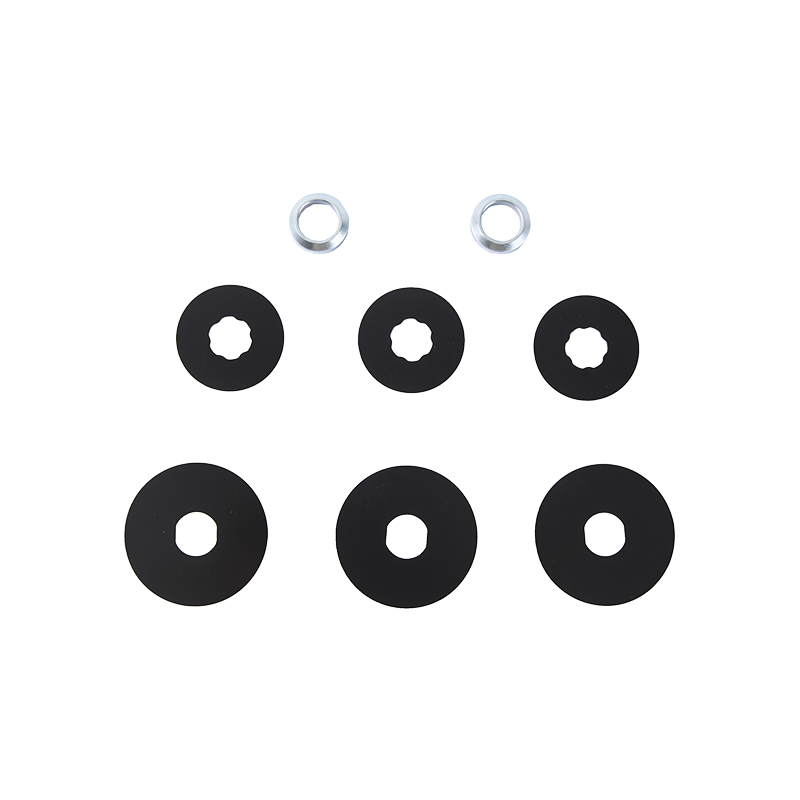 Application &Purpose: this plate is used for the tensioner and idler for the die casting arm inside the spring, part mold is progressive die and single die with different volumes which is designed and made in-house, and the presser is the mechanical machine with high-performance which can make very precise and tight tolerance.
Material: SPCC Cold steel,st12,st13