Powder metal parts are utilized for high-temperature applications due to their ability to maintain their mechanical strength, wear resistance, and dimensional stability at elevated temperatures. Here's how they are used in such scenarios:
High-temperature alloys are carefully chosen based on their ability to withstand elevated temperatures while maintaining mechanical properties. These alloys can include nickel-based superalloys, cobalt-chromium alloys, and refractory metals like tungsten and molybdenum. These materials are engineered to have high melting points, good thermal stability, and resistance to thermal and mechanical stresses.
The sintering process involves compacting the powdered metal particles into a desired shape and then subjecting them to controlled heat treatment. During sintering, atomic diffusion between particles leads to the formation of strong interparticle bonds, resulting in increased density and improved mechanical properties. This process is essential for creating parts with the necessary strength and stability at high temperatures.
3.Controlled Microstructure:
Powder metallurgy allows for the manipulation of microstructural features such as grain size, composition, and porosity. These factors influence the material's response to high-temperature conditions. For instance, fine-grained microstructures enhance mechanical properties and creep resistance, while specific alloy compositions can enhance corrosion or oxidation resistance.
Powder metallurgy enables the fabrication of complex part geometries that may be difficult or expensive to achieve through traditional manufacturing methods. This flexibility is especially useful for designing components for high-temperature environments where intricate shapes are required for optimized performance.
5.Gas Turbine Components:
Powder metal parts are extensively used in gas turbines. Turbine blades and vanes, subjected to high temperatures and mechanical stresses, benefit from the superior mechanical properties and thermal resistance of powder metallurgy-produced alloys. These parts contribute to the efficiency and reliability of gas turbine engines used in aviation, power generation, and industrial processes.
6.Aerospace and Automotive Applications:
In aerospace and automotive sectors, powder metal parts are utilized for exhaust systems, engine components, and heat exchangers. These components often operate at high temperatures due to combustion processes and require materials that can withstand thermal cycling and aggressive environments.
7.Industrial Furnace Components:
Powder metallurgy-produced parts find applications in industrial furnaces and high-temperature processing equipment. Heating elements, radiant tubes, and fixtures made from high-temperature alloys can endure extreme temperatures without significant degradation, ensuring stable and efficient operation of industrial processes.
8.Energy Conversion Systems:
High-temperature stability is crucial for energy conversion systems like fuel cells and heat exchangers. Powder metal parts are used to create components that can endure the demanding conditions and thermal gradients present in these systems, contributing to their efficiency and longevity.
9.Thermal Barrier Coatings:
Powder metallurgy can be employed to create thermal barrier coatings. These coatings are used in high-temperature applications to protect underlying components from extreme heat, enhancing their performance and extending their operational life.
Powder metal parts can be used in the oil and gas industry for drilling equipment, valves, and other components that operate in harsh and high-temperature environments, ensuring reliable performance and resistance to corrosion and wear.
11.Rocket Propulsion Systems:
In rocket propulsion systems, powder metallurgy-produced parts are used in components subjected to the extreme temperatures of combustion. Nozzles, combustion chambers, and valves benefit from the high-temperature resistance and mechanical strength of powder metal materials.
Powder metallurgy is utilized in nuclear applications for creating components in reactors that experience high temperatures and radiation. These components require materials that can maintain their integrity and mechanical properties in challenging environments.
Powder metal parts - powder metal end plate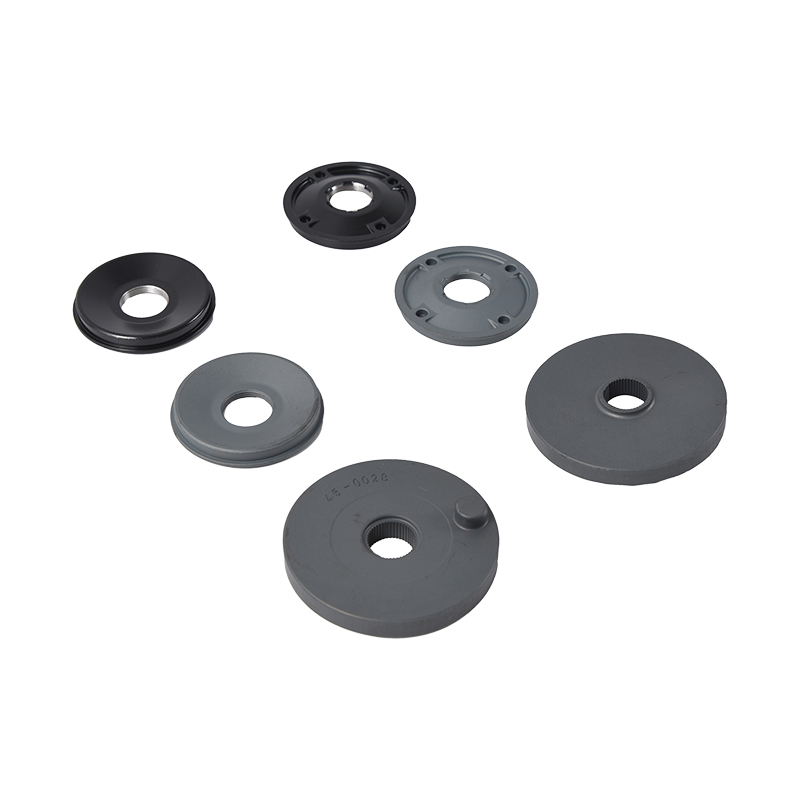 Application &Purpose: this parts is assemle with timing tensioner and assessory tensione and ilder pulley with belt for automotive engine of light and heavy vehicles Material: iron powder metal