Common defects and issues that can occur in die casting parts include:
1.Porosity: Porosity in die casting parts results from trapped gas during the solidification process. To prevent this, ensure proper venting of the die, use degassing techniques for the molten metal, and maintain the appropriate casting temperature and pressure. Quality control checks can help identify and reject parts with excessive porosity.
2.Cold Shuts: Cold shuts occur when two metal flows do not fuse correctly, resulting in a seam or crack. Proper gating design, ensuring an adequate metal temperature, and modifying the die to facilitate proper metal flow are essential to prevent cold shuts.
3.Flash: Flash is an excess layer of material at the parting line of the die. This can be minimized by maintaining the correct clamping force on the die, ensuring an appropriate die design that minimizes flash formation, and performing regular inspections.
4.Shrinkage Porosity: Shrinkage porosity is caused by uneven cooling and solidification, resulting in voids. Design changes like thicker sections or the addition of ribs to the part can help distribute heat more evenly and reduce the risk of shrinkage porosity.
5.Hot Tears: Hot tears are cracks that occur during solidification due to tensile stresses. Control cooling rates, use proper gating and riser designs, and consider using alloys with lower solidification temperatures to mitigate the formation of hot tears.
6.Cold Cracking: Cold cracking can occur post-casting due to residual stresses. Stress-relieving heat treatments can help relieve these stresses and prevent cracking. Proper cooling rates during casting are also critical.
7.Inclusions: Inclusions are foreign materials trapped in the casting, often resulting from impurities in the molten metal. Maintain a clean melting environment, use high-quality materials, and employ effective filtration systems to reduce inclusions.
8.Distortion: Distortion can be caused by uneven cooling and solidification. Design parts with consistent thickness, consider controlled cooling processes, and optimize ejector pin placement to minimize distortion.
9.Ejector Marks: Ejector marks can mar the surface finish of the casting. Careful selection of ejector pin locations and the use of surface finishes can help prevent these marks from appearing on the final part.
10.Die Wear: Regular die maintenance and inspection are vital to prevent die wear. Ensure that die surfaces are clean, lubricated, and in good condition to avoid defects caused by die wear.
11.Blistering: Blistering results from gas trapped beneath the casting's surface. Proper venting and vent placement in the die can help release trapped gas and reduce the likelihood of blistering.
12.Die Soldering: Die soldering is the sticking of molten metal to the die surface. Use die coatings or release agents to prevent soldering, ensuring smooth part ejection.
13.Die Thermal Fatigue: Die thermal fatigue can lead to cracking or damage due to temperature fluctuations. Maintain consistent temperature control in the die and consider die material selection to enhance resistance to thermal fatigue.
14.Die Casting Machine-Related Issues: Hydraulic leaks, misalignment, or other machine-related problems can affect casting quality. Regular machine maintenance, calibration, and operator training are crucial for addressing and preventing these issues.
15.Inadequate Material Flow: Incomplete filling of the die cavity can result from improper gating design. Optimize gate placement, size, and design to ensure proper material flow and minimize defects.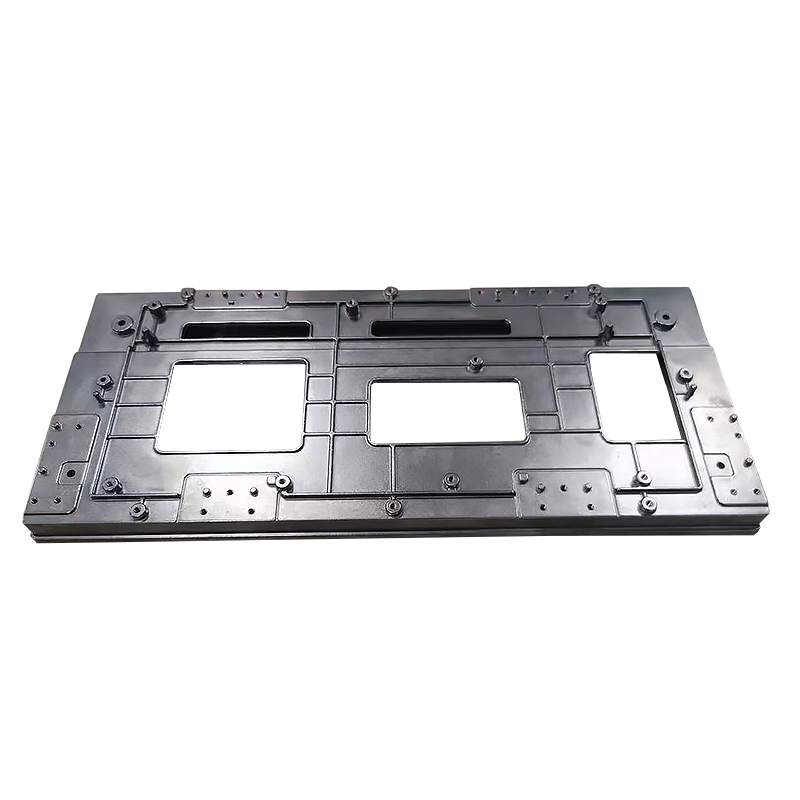 Application &Purpose: mold is designed and produced in-house, the standard lead time is 45days to 60days for off-tooling samples .this part is produced with 280tongs and/or 500tons famous brand casting machines and do the CNC center/lathe machining with specifications .it is used for new energy automotive application.
Material: Alloy  ADC12 Etc ( customer specified)