A damaged belt tensioner pulley can have several negative effects on the performance of a vehicle. Here are some ways in which a damaged belt tensioner pulley can impact the vehicle:
1.Decreased Belt Tension:
When the tensioner pulley is damaged, it may not be able to maintain proper tension in the belts that drive various engine components. As a result:
Belts may slip or become loose, leading to inefficient power transmission.
Insufficient tension can cause the belts to lose contact with accessory components, leading to reduced performance of the alternator, power steering pump, and air conditioning compressor.
Diminished charging system output can result in a drained battery and potentially cause the vehicle to stall or not start.
2.Accessory Component Malfunctions:
A damaged tensioner pulley can affect the performance of critical vehicle systems:
Insufficient power delivery can lead to dimming headlights, reduced power steering assist, and compromised air conditioning cooling capacity.
Erratic power output from the alternator can result in flickering lights and unstable electrical system operation.
3.Belt Wear and Damage:
The effects of a damaged tensioner pulley on belts:
Misalignment or vibration caused by the faulty pulley can lead to uneven wear, cracks, and fraying of the belts.
Premature belt wear can result in belt failure, potentially leaving essential components without power and causing further damage to the engine.
4.Increased Noise:
A damaged tensioner pulley can produce various noises:
Squealing or chirping sounds may indicate a slipping belt due to improper tension.
Grinding or rattling noises can suggest severe wear or misalignment of the pulley components.
5.Overheating:
In vehicles where the tensioner pulley drives the water pump:
Insufficient tension can reduce the efficiency of the water pump, leading to inadequate coolant circulation.
Inadequate cooling can cause the engine to overheat, potentially resulting in serious engine damage.
6.Reduced Fuel Efficiency:
The impact of a damaged tensioner pulley on fuel efficiency:
Engine components working under suboptimal conditions require more energy to operate.
Increased engine effort can lead to higher fuel consumption and reduced mileage.
7.Potential Breakdown:
If a damaged tensioner pulley is not addressed:
Complete belt failure can occur, leading to the loss of power for critical components such as the alternator, water pump, and air conditioning compressor.
A breakdown may leave the driver stranded and necessitate expensive repairs.
Addressing a damaged tensioner pulley promptly is essential to prevent these negative effects on vehicle performance, efficiency, and reliability. Regular maintenance and timely replacement of worn or damaged tensioner pulleys can help ensure the smooth operation of your vehicle's engine system.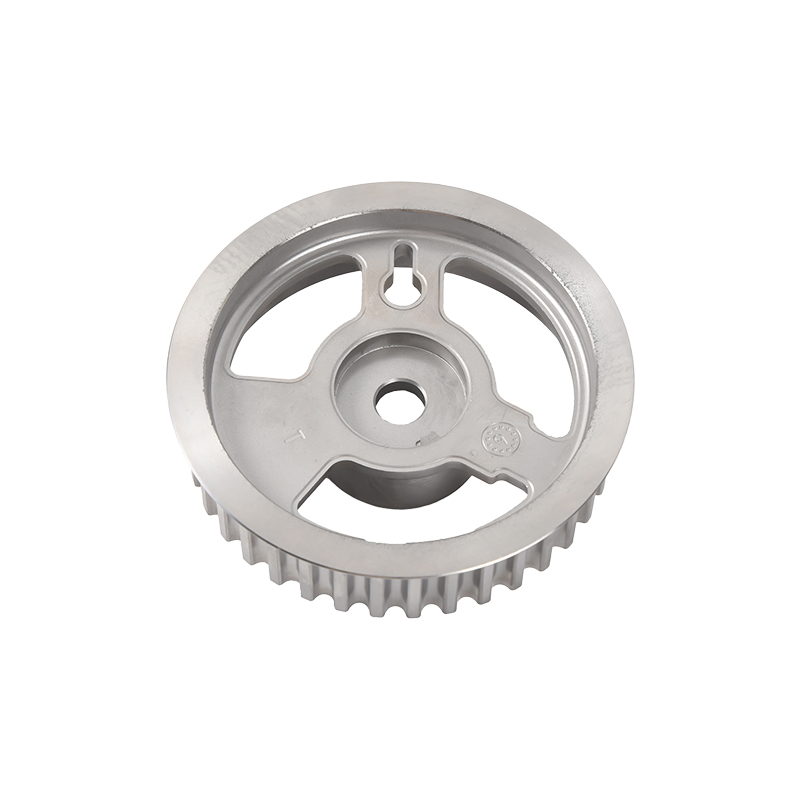 Application &Purpose: This part is timing pulley with teeth assembled for the crankshaft with timing belt ;with 600tons to 1000tons pressing machines to make the teeth precisely.
Material: Iron powder sintered FC-0208-40(Copper added alloy)Customerized material