Powder metal parts find a wide range of applications across various industries due to their unique properties, cost-effectiveness, and versatility. Some typical applications include:
1.Automotive Industry:
Gears: Powder metal gears are used in transmissions and gearboxes for their excellent wear resistance and quiet operation.
Bearings: Powder metal bearings are employed in engines and suspensions due to their self-lubricating properties and high load-bearing capacity.
Sprockets: Powder metal sprockets find use in chain-driven systems for motorcycles and bicycles.
Engine Parts: Critical engine components like connecting rods, crankshafts, and camshafts are often made using powder metallurgy to achieve high strength and dimensional accuracy.
Valve Guides: Powder metal valve guides offer good wear resistance and precise valve control.
2.Aerospace Industry:
Aircraft Engine Parts: Powder metal parts are used in turbine components, compressor parts, and other high-stress applications in jet engines.
Landing Gear Parts: Components like landing gear bushings and bearings benefit from powder metallurgy's strength and weight advantages.
Structural Components: Powder metal parts are utilized in aircraft structures where lightweight materials with high strength are required.
3.Medical Devices:
Dental Implants: Powder metal dental implants are biocompatible and provide good mechanical properties for long-lasting dental restorations.
Orthopedic Implants: Powder metal parts are used in joint replacements, bone plates, and screws due to their strength and compatibility with the human body.
Surgical Instruments: Scalpel blades, forceps, and other surgical instruments often incorporate powder metal materials for precision and durability.
4.Power Tools and Equipment:
Gears: Powder metal gears are common in power tool applications to handle high torque loads.
Bushings: Power tool bushings benefit from the self-lubricating properties of powder metal materials.
5.Electronics and Electrical Industry:
Electrical Contacts: Powder metal contacts are used in switches and connectors due to their high electrical conductivity.
Connectors: Powder metal connectors provide durability and reliability in electrical systems.
Magnetic Components: Powder metal is employed in magnetic cores for transformers and inductors.
6.Industrial Machinery:
Hydraulic Components: Powder metal parts are used in hydraulic valves and pistons for their wear resistance and tight tolerances.
Couplings: Powder metal couplings are utilized in machinery to transmit torque efficiently.
7.Hardware and Hand Tools:
Wrenches: Powder metal wrenches offer strength and durability for heavy-duty applications.
Screwdrivers: Precision powder metal parts are used in screwdriver tips for improved performance.
Cutting Tools: High-speed steel cutting tools often contain powder metal materials for increased wear resistance.
8.Sporting Goods:
Golf Club Heads: Powder metal materials are used to create lightweight yet strong golf club heads.
Bicycle Components: Powder metal parts in bicycle components contribute to better performance and reduced weight.
9.Consumer Goods:
Household Appliances: Powder metal components are used in various household appliances for their cost-effectiveness and precise tolerances.
Locks: Precision powder metal parts are employed in lock mechanisms for security and durability.
10.Oil and Gas Industry:
Valves: Powder metal valve components are used in critical applications to withstand harsh environments and corrosive fluids.
Pumps: Powder metal pump parts provide wear resistance and dimensional stability.
11.Renewable Energy:
Wind Turbine Components: Powder metal parts are employed in wind turbine gearboxes and generator systems for improved efficiency and durability.
Solar Power Systems: Powder metallurgy is used in solar cell components for their electrical properties and thermal stability.
12.Computer Hardware:
Heat Sinks: Powder metal heat sinks are utilized to dissipate heat from electronic components efficiently.
Hard Disk Drive Components: Precision powder metal parts are used in hard drives for reliable data storage.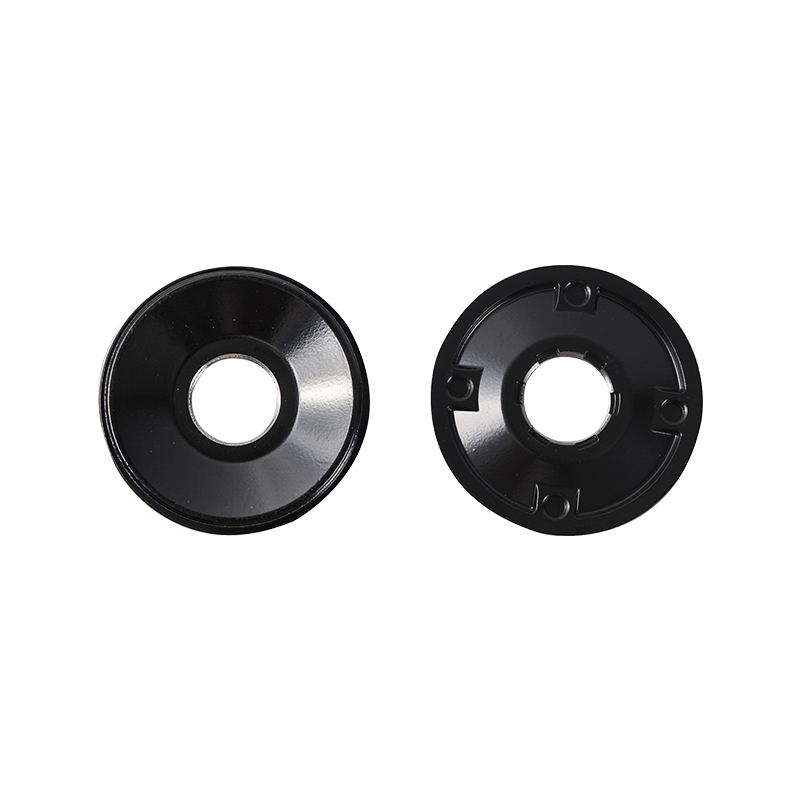 Material: Iron powder sintered FC-0208-40(Copper added alloy)Customerized material
Main Process: Mixing iron alloy powder-forming-sintering-steam treatment-E coating -packing