There are several specific applications where MIM (Metal Injection Molding) parts have demonstrated superior performance or durability compared to other manufacturing techniques:
1.Medical Devices:
MIM technology plays a pivotal role in the medical device industry, where intricate and biocompatible components are paramount. The ability of MIM to produce highly complex, precision parts ensures the manufacturing of delicate components like orthodontic brackets, surgical instruments, and dental implants. These components demand not only high precision but also biocompatibility and durability, areas where MIM excels, meeting stringent industry standards and regulations.
2.Firearms and Defense Industry:
MIM has revolutionized the production of firearm components, offering a high degree of consistency and precision in high-volume manufacturing. Components like triggers, hammers, and sears require both intricate designs and durable materials. MIM provides the ideal solution by enabling the production of parts with complex geometries, ensuring consistent quality, and meeting the rigorous standards of the firearms and defense industry.
3.Automotive Industry:
In the automotive sector, MIM is instrumental in producing critical components such as transmission parts, sensors, and fuel system components. MIM parts offer high strength-to-weight ratios, intricate designs, and excellent surface finish, contributing to the efficiency and performance of vehicles. Moreover, the ability to manufacture these parts in large quantities while maintaining strict tolerances makes MIM a preferred choice in automotive manufacturing.
4.Aerospace Industry:
Aerospace applications demand lightweight yet robust components, a requirement perfectly met by MIM. Components like brackets, latches, and connectors benefit from MIM technology due to its ability to produce lightweight parts with exceptional mechanical properties. MIM parts undergo rigorous testing and adhere to strict aerospace standards, ensuring their reliability and performance in demanding aerospace environments.
5.Electronics:
MIM is indispensable in the electronics industry, where miniaturization and intricate designs are essential. Components like connectors, switches, and housings require high precision and complex geometries, making MIM an ideal choice. The technology enables the production of intricate parts at scale, meeting the demands of the fast-paced electronics market. Additionally, MIM parts exhibit excellent electrical conductivity and can be produced with various surface finishes to meet specific electronic requirements.
6.Watchmaking:
The intricate world of watchmaking relies heavily on MIM for producing fine components such as gears, pinions, and springs. MIM's ability to achieve exceptional precision and reproduce intricate details is crucial in crafting high-quality timepieces. Watchmakers benefit from the consistent quality and durability of MIM parts, ensuring the reliable performance of luxury watches.
7.Consumer Goods:
In the consumer goods sector, MIM finds applications in manufacturing high-end cutlery, locks, and bathroom fixtures. The technology allows for the mass production of complex, aesthetically pleasing parts with high durability and excellent surface finish. MIM parts in consumer goods not only meet the demands of design but also adhere to quality standards, enhancing the overall user experience.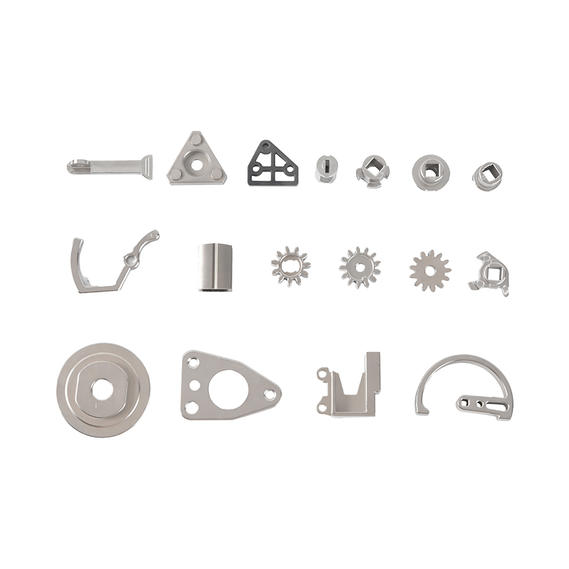 Application &Purpose: this part is mainly for lock used for automotive , home appliance , watches , medical instruments and related industry .the part is very pricision like gear ,structural parts . 
Material: stainless steel 304,316,17-4PH,Fe2Ni;ceramic material Sio2 ,ZrO2 etc.